Document
Solutions
Put an end to your paper trail with digital document management
Document
Solutions
Turn hard copies into usable, editable content
Kyocera Document Solutions offers an award-winning range of device technology and integrated business process improvement solutions that work together seamlessly. From desktop printers and multifunctional printers to robust color and black & white multifunctional products and business applications, these solutions turn otherwise complex data and document workflows into simple, efficient processes.
Advantages for your business:
Capture, manage, store and track all types of documents in one system
No more lost documents
Access and edit documents from anywhere, anytime
Significant cost savings through increased efficiency
Make better business decisions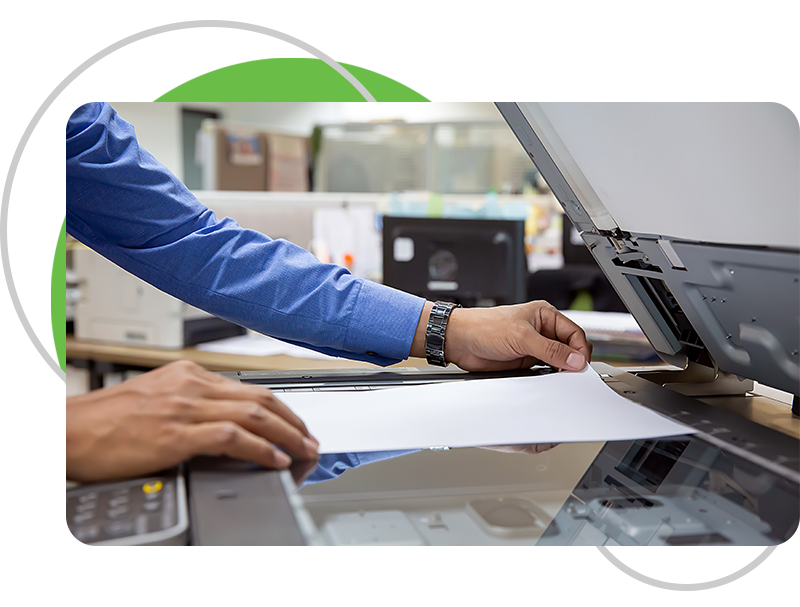 DMConnect Pro
Turn hard copies into usable, editable and findable content.
Kyocera DMConnect Pro is a simple-to-use yet sophisticated capture and distribution business application with forms recognition that intelligently powers document capture, processes, routes, and helps enterprises stay efficient, while strengthening their bottom line.


Scan and capture through advanced OCR
Optical character recognition enables the automatic capture of documents and information directly from your multi-function printer, as well as e-mail and digital sources.


Save significant time
Form recognition can extract a large amount of data from a document with little or no human input, saving time and speeding document processing.


Seamless content routing
Once a document has been captured and indexed, intelligent routing can automatically send it directly to online storage, cloud or ECM solution.
User-friendly solution to reduce waste and prevent data leakage
---
Printing can be one of the most costly functions in your organization – needlessly. CCP Solutions offers
MyQ
, a server-based business application that provides a new level of cost control and security.
More visibility to control cost
Through a simple dashboard, administrators are able to see who's printing the most and at what cost, allowing them to control the overall output and get detailed reports. Set policies to encourage black and white and duplex printing to reduce waste.
More security
MyQ helps prevent misuse or misplacement of sensitive and secure data. Documents are sent to the printer via encrypted communications, remain in the system, and can be securely printed from any device.
Easy to use
Users can access their account with their web browser and keep an overview of their personal printing jobs. In addition, users are able to print from any device, including their own, without having to locate drivers or figure out complex controls.
Additional CCP Document Solutions include:
OnBase Connector
This sophisticated solution for large enterprise organizations centralizes important content in one secure location. It provides the ability to scan, index and route documents into Hyland Software's OnBase 13 application directly from a Kyocera multi-function printer.
OmniWorx
Designed for small to midsize companies, OmniWorx enables businesses that spend too much time moving documents to do so in a more simplified and secure platform. It comes preconfigured with workflows specifically for Human Resources, Accounts Payable & Receivable and Contract Management.