Why
Kyocera?
The best-of-class combination of reliability, economy and productivity
Why
Kyocera?
The best-of-class combination of reliability, economy and productivity
Kyocera Ecosys multifunction copiers and printers provide advanced office solutions that enable businesses to achieve fast return-on-investment, with minimal impact on the environment. They offer the unmatched combination of ultra-reliable technology, productivity, economy, advanced functionality, security and easy integration to any size business.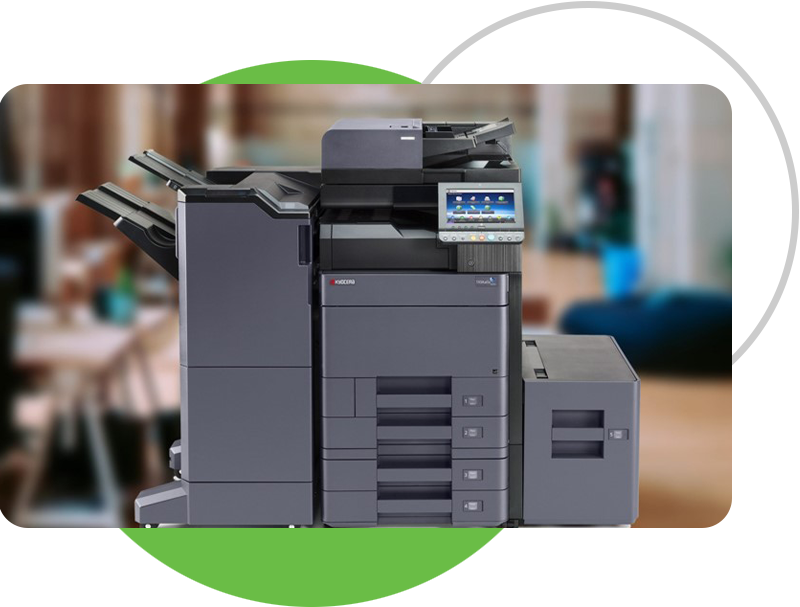 Long-life drums for improved productivity
The patented ceramic technology used in the Kyocera copier and printer product line gives their drums extraordinary long life, far exceeding all competitors. This provides customers with greater uptime, improved productivity and efficiency.
Flexible and scalable
The comprehensive range of Kyocera black-and-white and color Multifunction copiers and Ecosys Printers is based on a common engine, operational interface and software platform, with transferable optional accessories. This enables organizations to dynamically reconfigure their fleet of printers and copy machines as business expands and resources are needed.
More efficient and safer
Kyocera office copier systems have a human detection sensor that turns them on one second after it senses someone approaching. This not only speeds workflow but enhances office safety by limiting the need for multiple hands touching the screen.
Apps that end your paper trail
Kyocera devices integrate with a portfolio of scan-and-capture apps that enable you to transform inefficient paper-based document systems into digitized information that all members of your company can access whenever they need it – revolutionizing your workflow and business process. Scanned documents can be sent or faxed to any location, including online storage, cloud or ECM.
Highest industry awards for reliability
The Kyocera product line has won numerous Buyer's Lab Pick Awards – the highest award available from the most prestigious rating organization in the industry. This includes the Buyers Lab Award for Most Reliable Color Copier MFP Brand from 2018 to 2021. These hard-earned rewards are based on rigorous testing including an extensive durability assessment and evaluation of key attributes such as usability, image quality and value.
Dramatically reduce your color copy costs
by up to 30%!
Fixed-rate pricing means you pay the same for every color copy you make – regardless of whether the copy contains only a small color logo or a full-page color image.
Kyocera's revolutionary 3-Tiered Color System keeps your documents looking professional while dramatically reducing your costs compared to fixed-rate color copy pricing.
Pay for only the color you use
With our system, the copy charge is based on the amount of color coverage on the page:
SIMPLE COLOR
(low coverage – lowest cost)
A color company logo on basic correspondence.
BUSINESS COLOR
(medium coverage – medium cost)
A report that contains color charts and graphs with text.
CREATIVE COLOR
(high coverage – higher cost)
Color-rich materials such as brochures and presentations.
"From the beginning of our project to replace all copiers in our firm and continuing to today, it has been nothing but a good experience. Everyone at CCP has been quick to respond to our needs and questions, and always leaves me feeling as if I'm their most important customer."
– Michael, leading Mass Mutual wealth management firm